Interview with Michael on 24.September 2001,
when he was just about to go into the studio. While the debut CD "Time To Speak" keeps in the A Different Drum Sales Charts for weeks and the second MCD "I Began To Hope" was just released, Michael found some time to answer some questions.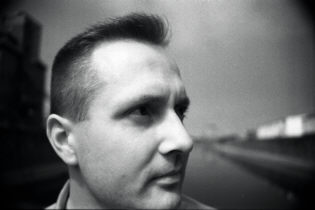 Stardust: Michael, your debut keeps in the A Different Drum Sales Charts for weeks, it even reached No 2. How do you feel about it? Are you proud about it or don't you care much about it?

Michael: In a way I am proud to be among the best ten for such a long time. I had not expected it, even if it is not the Media Control or the Billboard charts. After all I see that my conception of music can not be totally wrong.

Stardust: "I Began To Hope", the second single of the album was released. Some say it is the best song of the album. What do you connect with it?

Michael: First of all, long evenings in front of the computer (laughs). No, I liked the song already during the development. But it has no different or bigger meaning to me than any other song.

Stardust: "I Began To Hope" is a song from your promo CD "Criminal Ballad". It captivates with many mixes and unreleased material. It's almost an EP. Is it a preview to the next album?

Michael: I wouldn't put it that way. I don't think you can draw conclusions from the MCD to the character of the next album. I will have to surprise myself. Anyway, on "I Began To Hope" you can hear things you couldn't hear before, which results from the co-operation with Empire State Human.

Stardust: Michael, were your expectations met? How far did you get in touch with fans in America or responses from them?

Michael: The responses from the United States are really positive. Concerning the status, Wave In Head is by some persons even compared to Camouflage, which honors me. However, I'm still at the very beginning, which became very clear to me, again. Before I can talk about fulfilled expectations, I better wait for the next two years (laughs).

Stardust: Next year you take part at the Synthcon in the United States. What can the audience expect? Will there be a tour in the states afterwards?

Michael: I have contact to several promoters, but so far they have not talked about fixed dates. Therefore, I proceed on the assumption that there will only be a single gig without a following tour, unless the demand doesn't chance rapidly. The Synthcon visitors will see me in classical two-person cast. We will perform a cross-cut from "Time To Speak" and the new album, which will be released in summer 2002. After the concert I will stay around there for a while. If you like, just talk to me. I'm always interested in feedback.

Stardust: A frequently asked question: When will there be a tour to the album? Except for sporadic gigs, Wave In Head perform quite seldom live. Why?

Michael: Here you have to think differently from a professional band. I still have a regular job to do. I do not think about an album tour in Germany, yet. I'm not known enough to fill bigger halls. I will think about it in the future. A tour in the United States would make more sense (maybe in co-operation with label colleagues), but, considering the time, it is simply impossible. It is very hard to reconcile everything.

Stardust: You just make a remix of New Order's "Blue Monday". How came it about and how does it feel to cover this classical song?

Michael: Made, not make. It's ready. How it came about? Synthphony Records made an inquiry via e-mail (three cheers to advance!). It is kind of strange to work on a song you wriggled to as a 13 year old on the dance floor in holiday camp. During that time I had no idea how my interests would develop.

Stardust: Now to something different: It is hard to buy your CDs in Germany. Will there be a universal solution?

Michael: So far there is only the solution by internet via SPR (links on my homepage). Of course it is not ideal, since the CDs come into the country and into availability with considerable delay. Unfortunately there is nobody to care for an availability in record stores. There exists no so called license contract. Of course it is possible to bring CDs from American production to German record stores. However, A Different Drum only made negative experiences with it and had high financial losses, to say nothing of the artist who usually did not get a single DM out of such co-operations. With a license contract a German record company would produce the CDs themselves, which would limit possible losses. I am in principle interested in a license contract, but certainly only with a record company that works after the principle of a co-operation that is profitable for both sides.

Stardust: Michael, if you have a look at other bands of the genre, many of them take a longer break after a release. Unlike them, you went straight back to the studio. What drives you?

Michael: I always make music. All the time. Or I make remixes and something like that. There is no time to rest if the ideas that have to be realized pile up. Another point is that I like to keep in touch with the fans. Those of you who want to be regularly informed by me - just send me an e-mail. This might have the effect that there exists no impression of resting.

Stardust: You are in the studio again to work on the new album. What can the Wave In Head fans expect and when will the album presumably be released?

Michael: I have the follow-up contract for the new album, which plans the release in summer 2002. Exactly the time period I will need. Again, I will try out all sorts of things. Nevertheless it will be an electronic album, again. Very likely more electronic and refined than the last one. The sounds will here and there be a little fierce or strange. However, almost every song will have a typical structure, with chorus, verse and melody, and will therefore be catchy and hopefully more infectious than "Time To Speak".

Stardust: What happened to your "Emotional Machines" album?

Michael: (Grins) Well, the idea is not put into the files, yet. Wait and see, I always say.

Stardust: When you are in the studio, how do your songs develop? Do you have a certain concept?

Michael: Like other bands, too. I'm only cooking with water, as anybody else. First there is an idea, a melody, a sound, a sequence, and little by little I make a song out of it. Afterwards (usually quite late), the lyrics follow and at the end the vocal recording, the mixdown and the digitalization of the demo, which once in a while appears unchanged on a CD.

Stardust: Apart from your momentary studio work, what does the future bring? Do you have concrete plans for the future, any planned projects or will we be surprised at what time brings?

Michael: You know me, I never make plans for three years or more. For the time being I see no further than the release of the next album. Everything beyond summer 2002 does not exist yet in a musical sense. All sorts of things are possible. Let us be surprised together.

Stardust: Thank you for the interview. Probably the last one for a while, because I guess Wave In Head will make himself scarce in order to produce a super album.

Michael: Thanks, too. I will do my best. (grins)