The Bandpages:
X o t o x
This time I want to bring a project called Xotox home into your black hearts. I made my first experiences with Xotox at last year's Electromotion festival in Berlin. Xotox is situated somewhere between Kiev and Dive, for those of you who like it a little harder. The project of Andreas Davids, who lives in Paderborn, has currently the new production "Silberfieber" at the start. A super album with a good technical standard on one hand and the typical Xotox sound on the other hand. A must for all fans of Industrial music.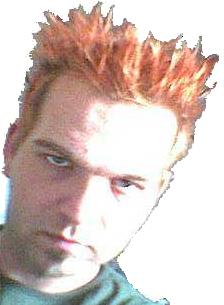 And now follow the facts and figures
Xotox was founded in 1998 by Andreas Davids. Hard beats, short melodies and a little emphasised Noise are in the spotlight. With the debut album "Stückgut" a certain level of acknowledgement was reached within the underground. The successors "Epos" and "Monolith" took the same line. Xotox produced several remixes for "Deep", "Jean Bach" and "Alliance Of Anguish". After several live gigs in Höxter and Wiesbaden, "Disinhibition", the most successful and most famous record so far, was released. It contained the club hits "Let Your Mind Be Free" and "I Want You" - the latter was chosen for the following compilations: "Wachträume" by Liquid Harsh and "Chrome de la chrome" by Blackchannel / Marita Schreck. The records "Die Prophezeiung" and "Implantat / Eisenwald" followed. Another big step was the release of "Come Closer" with the club hits " Serienfraktur", "Gotovje!" and "Come Close". They are played in several clubs and on many parties by now. The current album "Silberfieber" connects technoid rhythms with distorted beats and sequences and strange spoken vocals. Xotox´s most successful live gig was on 19th Mai 2001 during the "Chrome de la Chrome" Industrial Festival in Kassablanca, Jena. There the live recordings for the album "Rhythm Of Fear" were made. This album does not only contain the complete live gig, but also remixes of Alexdee, A Ohle (Explizit einsam, Alpha Child) and Ohmkill as well as two so far unreleased tracks. In addition, Andreas Davids has his own record label, which is called "Neufnoir Records", and releases not only Xotox but also several side projects and projects of friends.
I will write more about the label, soon.
Something about the current album, again: my tip - listen to the club hit "Eisenkiller". You can hear it soon as mp3 file.
For a few Euro you can order all CDs (home productions). They are worth it.
By the way, Xotox is still looking for a record label.
Contact address:
Andreas Davids
Rembertstrasse 13
33102 Paderborn
Germany
Tel. 0177-8666491
www.neufnoir.de
the last bandpage was about Toxic´N Blue